Cobalt Embayment (Ontario)
The Cobalt Embayment, is a large and well-defined region in north eastern Ontario that hosts historic high-grade production estimated at some 600 million ounces of silver and 15,000 tonnes of cobalt since the early 1900s. Much of this production was from vein structures along the eastern and northern contact regions of the Cobalt Embayment called the "Mine Trend". This trend occurs along the eastern and northerly contact of the much larger, well defined, basin – the Cobalt Embayment. The Mine Trend extends from south of Cobalt to west of Gowganda, an arc distance of approximately 200 km in extent.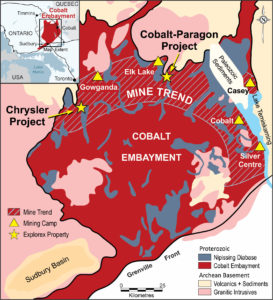 Recognizing that the geological setting for cobalt mineralization in the western part of the Mine Trend is the same as in the Cobalt area, Explorex has acquired two cobalt exploration projects. This area of focus was historically underexplored due to a lack of outcrop, poor access and, ultimately depressed metal prices.